Who is that Joe Dolce bloke?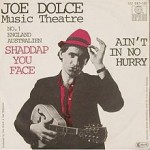 It was December the 31st 1980. There was not long to go now. All the young people knew that the world was going to end in 1980 and we were all pretty tense at the Crown Inn that evening as a result, thus it was that me and my on and mainly off girlfriend decided that we would return home to her parents house and watch the New year/End Of the World come in together.
Kenny Everett was on the telly, he had a show which could leave you in hysterics for weeks or just plain annoyed and disappointed -depending on his antics. This night, despite being probably, quite a biggy for him, was no different. Until just before midnight.
Things were getting tenser -there was not long left for the world as we knew it, it was over to  DAVID BOWIE! What? Doing   Space Oddity  ? Downright odd choice I felt ,but very welcome. And what was this-a strange new and very stripped down version with a wonderfully plain video to match! This is going to be the coolest end of the world we had ever known we thought!
So, in 1981, it`s pretty fair to say that the eighties as we knew them started to find their identity, quite apart from the seventies, which had shifted in as many ways as a Liberal mp in desperation to stamp a single identity for history of itself.
I`d seen the New Romantiscm born in many formats, particularly as my nearest night life town was Bournemouth, but it in life, never seemed to actually have the glamour which it had promised in the wonderful photos that we were seeing coming down from London. We had already reached an age in which every vinyl single we bought, was pretty much guaranteed a picture cover sleeve if you bought it in an independent record shop or one of the major music chains, but the final thing to solidify and clarify these new genres and fashions away from punk and new wave commercially for a new decade , had yet to truly emerge and dominate. On that New Years Eve with his strange stripped down version of his hit in a video format, David Bowie, stood on the first step of the next decade. The VIDEO decade.
During the post punk time, particularly in the South of England, I believe, there was a lovely friendly and large following for Adam and The Ants. It could have probably gone on for a long time as it was, but for a deal with CBS (that frightened and indeed lost many of the oldest fans of the band) and the making of classic hit videos. With the Ants in `81,the video was without a doubt 50% of the whole hit package and absolutely essential instantly. The rules changed and the decade was set with its own identity. Duran Duran had their   Girls on Film  video banned , making it even more desirable to seek out in the clubs with a video screen,or in many cases,just a telly connected to a BetaMax.
But it`s simply not that cut and dried musically as a decade,which is probably why is still loved and still admired by people not old enough to have been about in it. The summer hit in the UK   Farewell My SummerLove  -an obscure Michael Jackson song from some time-with certainly no video to promote it or to speak of, but a song ,class enough to hold its own where a massive gimmick was starting to emerge.
I think the simple fact is, that musically, the dust still had not settled yet from the punk/new wave revoloution, and people still had their ears wide open. Compare any single chart single from say, summer 1976, with a similar   average  tune from 1981 of the same season and the quality control had been raised by some degree.People had shown they were not going to take the rot anymore and nobody for a long time was going to tempt them with any.
So. The end of the world had apparently been avoided! It was marvellous, I cycled home with a paper bag full of wonders of new and gorgeously packaged vinyl, by Japan, Duran Duran, The Way Of the West,B Movie , Fingerprintz, not a worry in the world, we were safe.
But…
Who is that Joe Dolce bloke and why is that horrid record number 1? Jð
Martin Kitcher
Short URL: http://80slegends.com/?p=1467