Our First contributed 80s Top Twenty.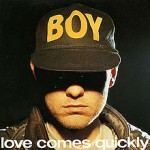 My Top 20 80s songs
1: Holiday – Madonna
2: Victims – Culture Club
3: The Chauffeur – Duran Duran
4: When Doves Cry – Prince & The Revolution
5: Everything She Wants – Wham!
6: Angel – Madonna
7: She Bop – Cyndi Lauper
8: The Power of Love – Frankie goes to Hollywood
9: Forbidden Colours -David Sylvian & Ryuichi Sakamoto
10: Je Ne Sais Pas Pourquoi – Kylie Minogue
11: Say I'm Your Number One – Princess
12: Head Over Heels – Tears for Fears
14: Chance to Grow – Wendy & Lisa
15:The Lucky One – Laura Branigan
16: Heaven Help Me – Deon Estus
17: Love Comes Quickly – Pet Shop Boys
18: I Can't Wait – Nu Shooz
19: Rapture – Blondie
20: Sometimes it Snows in April – Prince & the Revolution
The 20 songs represent just some of the many 80s songs that I love. They are in no particular order but Holiday is my most favourite 80s song of all time. it represents all that i love and still love about Madonna. Angel continued the pop that she does so well. There are also two songs by Prince & The Revolution Kylie and Princess represent the SAW years. Each song means something to me in different ways.
I live in Dublin, Ireland and I have a pop music and movies blog at www.strikecuriousposes.blogspot.com
and my Twitter is @DavidMinogue
Thank you,
David Minogue
Short URL: http://80slegends.com/?p=1446