Matt Backer, a very British American.
It was a great privilege that I recently got to chat with highly respected guitarist, singer songwriter Matt Backer. His list of recording credits includes Visage, Elton John, Swing Out Sister, Ton Hadley and Sinead O'Connor. Matt very kindly made himself available after rehearsals and just before a very busy schedule which included a video shoot for a documentary with Julian Lennon and a trip to Singapore to perform with Bananarama and Belinda Carlisle.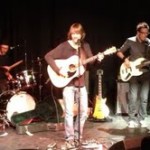 The festival season is a busy time for Matt who has been performing with ABC, including a recent gig at Rochester Castle, then taking a well deserved Holiday in August after 80′s Rewind. I asked Matt if he was surprised at the level of interest in 80′s music, "It's old fashioned and full of anthems, with honest performers" he mentioned I went on to ask if it was the loyal fan base of "a certain age" that made up most audiences. "The age range is getting wider, we thought that all the kids would go to see Ed Sheeran on another stage but many came along to see us" Matt has recorded and performed live with some of the biggest names in Rock and Pop, I asked if there were any artists with which he would like to have worked with given the opportunity. "David Bowie" was the first name on the list which included Steely Dan, Little Feet and the late great Miles Davis.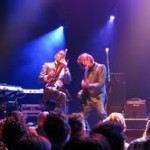 Matt was born in New Orleans and has settled into the British way of life.. " I have a British Wife, British Kids and a British Mortgage" he exclaimed although he does visit his native America as often as possible.  I have always said that social media of today has given us access to those that we would not have had a hope in speaking to in the 80′s. It is artists like Matt, that make themselves available, that keep the interest in the 80′s very much alive. Matt also assured us that ABC, Tony Hadley and Co will be performing as long as they are able to do so… roll on  80′s Rewind 2014.
A Massive thanks to Matt for taking the time to speak to me.
We both concluded that Live Performances are such an important part of Music…
You can catch Matt at two of his own gigs at the following venues
25th October – The Colour House Theatre London SW 19
http://www.colourhousetheatre.co.uk/mainwebsite/ShowDetails.asp?showid=1351
13th November – Dublin Castle in Camden, London
Photographs courtesy of Six Degrees Entertainment
Short URL: http://80slegends.com/?p=2076
Posted by
80sHog
on Oct 22 2013 Filed under
Headline
,
Hog's 80s Blog
. You can follow any responses to this entry through the
RSS 2.0
. You can leave a response or trackback to this entry