Fade to Grey, never Fade Away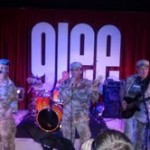 It is 30 years since I last saw Steve Strange in the flesh.  That was at the Camden Palais and he was, as he is more famously known, a club promoter and one of the pioneers of the New Romantic Movement. Fade to Grey, one of the iconic tracks of that movement both in sound and visually, are better known than Steve Strange the popstar.
So I traveled to The Glee Club in Cardiff not sure what to expect other than to see one of my 80s heroes.
This is Visages third incarnation and boasts former Ultravox guitarist, Robin Simon ,  Lauren Duvall, vocals and and a drummer Johnny Marter. The gig started with them all marching on stage in military uniforms with me half expecting a cover version of "We're in the army now…" But no, the magic and charisma of Steve Strange engulfed the room as he began a mixture of the old and new.
He looked happy to be there is his home city with his mum, sister, friends and about 300 cross-generational fans all singing along to Shameless Fashion from the new album Hearts  And Knives. Unlike many of his contemporaries Steve was not self-indulgent with his playlist. He mixed his set well with Mind of a Toy, Anvil with Diaries of a Madman and the forthcoming single Dreamer I Know.
He did a costume change half way through to resemble the Steve Strange we know and love.
Throughout the gig he had great banter with the crowd  noticing one sporting a cuddly toy he shrieked in fear, not a bloody Telly Tubby! Ohh ohh!
The the moment came for that era defining anthem of a movement and upped popped Jason Lewis onto the stage to assist with vocals.
The gig  ended with the track Visage to everyone's delight.
He came out afterwards for autographs and photos, disappointingly though, in rather plain attire.
The Visage Tour kicks off this September. I encourage you to go and see ths cultural icon and you will be pleasantly surprised at Steve Strange the Popstar!
Review and Pictures by Permission of Nicole Sinclaire
Short URL: http://80slegends.com/?p=2006