Carol Decker lockdown Q and A.
Hello 80′s Fans,
A little while ago we asked if you had any questions for the wonderful Carol Decker, here are the best 10.
A massive thank you to Carol for answering answer your questions, releasing a new single and promoting is a busy time so it is really appreciated.
We thought it appropriate to publish these today as T'Pau's new single, Be Wonderful, is now available. I have posted the link on my Twitter feed @80slegends where you can download and enjoy!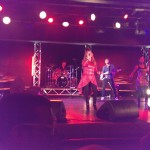 1. What would you have done if you weren't a recording Artist?I went to art school and was really staring to enjoy textiles so possibly that direction or some sort of journalism as I like writing & comment.
2. As a local girl, how did it feel playing your first gig at the Telford Ice Rink?
TIR wasn't my first gig in Telford? But it might have been the first gig at TIR??
 Is that what you mean?  Obviously I had been gigging around the great Shropshire area for years so, there were not many places I had not played locally but yes it was nice to come back 'BIG '  and play on my old stomping ground
3. When making tea are you milk first, milk last or no milk?
 I hate Tea .I'm a coffee girl unless I  have a show then I  drink some tea with honey fro my throat and I put in the  tiniest dash of milk in last as I really hate milky tea.
4. What are your favourite/least favourite venues that you have performed in?
I love the arenas like Wembley , O2  etc as they are spacious  backstage and I do like the shock and awe of a big venue .And I love  festivals as they are (usually) really chill as long as the stage crew are on top of the schedule
Smaller clubs are  a more intense relationship with the audience so that is good in a direct way
The venues I tend to  enjoy the least  are  Council run theatres. They are usually run by jobsworths who don't care about music or promoting the show effectively.
5. Do you remember the first time you met a famous musician and the first time another famous musician talked about your music, were you star struck at all?
First really famous musician I ever met was  Robert Plant .I knew Kingsley Ward, owner of Rockfield studios in Monmouth & he gave us a production deal & studio time for our early demos
 Robert lived in Monmouth and was good friend of Kingsley's so he would be at parties and in the shops & pubs  in town etc.Kingsley introduced him to me as 'Planty" I had no idea who he was and always just called him Planty. It was a few years later I realised he was Robert Plant.When I told my young Guitarist , James Ashby this story he nearly died, as he LOVES Led Zeppelin. He'd have killed  to hang out with him so I was not stars truck
But when I was introduced to Debbie Harry IN Atlanta I could barely speak so then I was starstruck
I have never discussed my music with another musician outside of when I'm writing a song.
My first appearance on TOTP was probably one of the most  exciting things that has ever happened to me .It meant so much to be on the most watched music show in the land.I had grown up watching it and now I was appearing on it!  I also hoped that everyone  who had ever doubted me or bullied me at school was watching ! it was all I could do not to flip the bird down the camera.
If you got on TOTP your single usually soared up the charts it was a very important show. It was an institution
7. If you could have been lead singer for another 80′s Band, who would that be?
 Oooooh that's a hard one … Roxette maybe or INXS.
8. What are your favourite ways of passing time during the lockdown?
Boxsets and drinking wine &  getting  a bit fat then working out the next morning in my garage gym so I can do it again!!
9. If you could record a duet with any male recording artist in history, who would it be?
Tom Petty.
10. What is the first thing you are going to do when the lockdown is over?
Go to the pub!
Short URL: http://80slegends.com/?p=2234