Adam Ant at The Roundhouse 35 Years on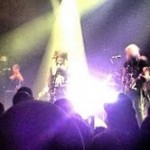 It's 35 years since Adam & The Ants performed at The Roundhouse and now, in 2013, Adam is back with The Good, The Mad & The Lovely Posse playing to a sold-out venue full of enthusiastic Ant Fans.
 Many artists of Adam's vintage are enthusiastically plodding through the motions, way past their peak, whereas Mr Ant is at the height of his powers and his performances these days are as compelling as any throughout his career. The new band are superb, tight, powerful and provide the perfect sound for this set packed with classics.
Adam is looking great these days, like a battle scarred warrior who has trumphantly returned, waving the mike stand around like a samurai sword, gyrating around the stage and hitting the audience square between the eyes with great tune after another.
The set has a perfect mixture of the hits, album tracks and b-sides so any fan of varying fanatacism will be satisfied. The new material from the recent Adam Ant Is The Blueback Hussar In Marrying The Gunners Daughter album sounds powerful and fresh live particularly Shrink, Vince Taylor and Cool Zombie and sit amongst the classic songs nicely. As for the hits, yes you will hear solidly performed versions of Antmusic, Dog Eat Dog, Stand and Deliver, Goody Two Shoes, Prince Charming, Vive Le Rock, Cartrouble, Zerox, Kings of the Wild Frontier and Desperate But Not Serious. 90′s love song Wonderful sounds..well…wonderful and hardcore fans are treated to some Dirk-era material such as Cleopatra and Never Trust A Man (With Egg On His Face) and raw, punchy b-sides such as Press Darlings, Fall-In, Kick and Whip In My Valise.
Seeing Adam Ant back performing and recording is great in itself, but seeing it all done with such enthusiasm and performed so well is a real joy. Adam is back doing what he does best and appears to be enjoying every minute, as were the sold-out audience at the Roundhouse.
Adam is one of the last true pop icons we have left. A true original and a damn great entertainer. Miss him at your peril!
Freddie Valentine
Short URL: http://80slegends.com/?p=1923