A Star of The Future
One Hot Summers day, not so long ago, I thought I would take the kids to our local Sport Centre where a "Family Day Out" was taking place. The pamphlet described the usual stuff , bouncy castles, candy floss, face painting..you know what I mean. The one redeeming feature was that live music on offer. To be honest the stalls and food vans were nothing new but I was determined to hang around and hopefully be entertained.
You never know how these things are going to turn out and to be honest expectations weren't high. A young lady made her way  to centre stage clutching a guitar, a readjustment of the microphone location and we were ready to go. A confident introduction of the first song, a self penned track called Perfect was followed by a performance you would have been be happy to pay for.. a catchy tune followed, clever lyrics sung by someone who was clearly enjoying every moment  As you know I'm not a fan of 80′s covers but a great version of Living on a Prayer in the short but brilliant set made me smile. Her performance deserved more exposure than the thirty or so that were paying attention.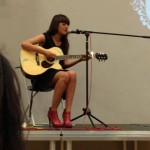 I am pleased to say that the young musician in question, Laura Hobson, agreed to this very article… Laura spent a month of  her Summer in Italy and is now back in full time education, fitting in her musical aspirations with her school work. Watching her Sister and Dad perform when growing up meant that music had been in her life at a very young age, her first show performance was at the tender age of 5. Learning to play the guitar about 4 years ago was when Laura started to take music seriously and when asked about her song writing she explained " My experiences such as things that happened to me at school, my relationships with my friends, my family, and life's ups and downs are what help me to write my lyrics. I find it impossible to write a song about something that I haven't personally experienced" I asked Laura if she was disappointed at playing in front of such a small crowd on the day I heard her and she was just happy to share her music with those that were happy to listen. "I performed to about 600 people at the Orchard Theatre in Dartford a few years ago which was such an amazing opportunity and a real confidence boost… even though I was so nervous!"
I managed to obtain a copy, from her Dad, of some recordings done at Seahorse Studios in Essex. To my delight there was a cover of the 80′s classic, Fast Car. Once again I found myself enjoying a Laura 80′s cover, Laura said "I think the 80's has been one of, if not the best decade for real pure music and I love covering songs from this era. Everyone loves a good 80's track!" 
When asked about her song, Perfect, Laura was keen to mention "I like to put a little message across in my music and something I strongly believe in is that no-one is perfect. No-one wakes up in the morning looking like perfection and no-one should ever feel like they need to! Imperfection is beauty."
I know it was a cliche question to finish with but what would Laura like for the future?
"Just playing music. Wherever! Whether it's on a huge stage, a tiny stage, in a pub or in an arena, I know that I'll be playing my music. I would have been to University too and studied whatever I choose in the end but no matter where I am or what position I'm in, I'll be with my guitar in hand"

We would like to wish Laura every success and we will be keeping in touch with her progress. What makes this even the more pleasing is that Laura is from my home Town. You heard it here first, this young lady is going places.

Here is the link to a performance of Perfect… enjoy. Some of Lauras other songs are also on You Tube…all well worth taking the time to listen to..
.
Short URL: http://80slegends.com/?p=2049